WiseTime Connections
WiseTime was designed to connect, so we've built it to ensure that connecting to existing systems is simple and fast. By connecting to your existing billing or practice management system, it allows the activity from WiseTime to flow seamlessly into your system and be captured against the right client or case.
Managed connections
We have existing enterprise Connections ready to plug into for the following systems:
Designed to connect
This means that if you connect with your practice management system for example, WiseTime can automatically pick up your case references and client names from your database and tag your activity accordingly. When you post your time, it will then seamlessly flow through to the right client or case file and create billing entries to be invoiced. All the information you post from WiseTime will seamlessly flow into your billing system. You also have the option to group time entries and add descriptive narratives manually, or using our AI narrative generator, that will appear alongside the time information.
Decrease the admin in your processes


With WiseTime data feeding easily into your existing billing system you'll increase accuracy and speed of invoicing and decrease admin tasks dramatically.
Easily create meticulously detailed invoices
Providing activity details down to the second would be impossible without serious workflow interruptions but you can produce this detail effortlessly with WiseTime. With WiseTime plugged into your billing system you can produce granular billing reports at the click of a button.
Build even better relationships with fair, transparent billing
Your clients will love the level of detail and transparency that you can offer using your WiseTime data, turning billing reports into relationship-building moments.
Can't find your management system here?
It's easy to connect with WiseTime and we're here to make it happen. Here's what people say about working with us when to comes to connecting WiseTime with their system:
"The WiseTime team were a dream to partner with. We were launching something special at the Clio Cloud Conference and as such, had a firm deadline. The WiseTime team were so capable and on the ball and immediately understood the context and details of what was needed – and they got it done in record time. We worked with some great integration partners on this project, but WiseTime was the smoothest."
Clio Product & Software Development Team
How our Connections work
Our Connections have been built as simply as possible – using only two required connection fields – to ensure that there is little to no impact on your systems or internal IT resources. We have also engineered them to ensure that the security is unbeatable, allowing the Connection to be hosted behind your own firewall.
Our Connections can be downloaded as a web app, delivered to you on a pre-configured plug-and-play mini-computer, or spun up virtually – the choice is yours!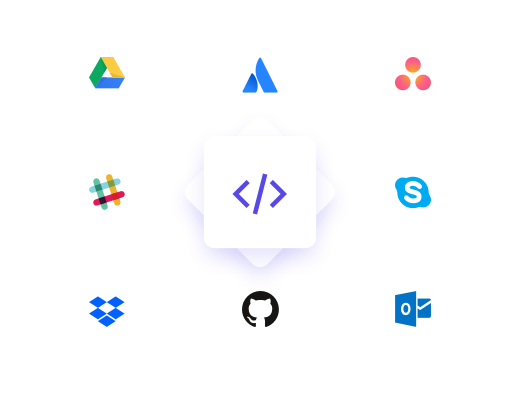 What systems can WiseTime connect to?
WiseTime has an API which means that almost any software can connect. In addition, we provide a number of pre-built connections that can be set up with your system in a few short hours. Our API is public, and we provide a Java-based open source library that you can utilise. Our pre-built connections are also open source so you can learn from the existing projects. If you have capacity in house to explore connecting with your system via our API we can aid you in achieving this goal. You can chat to our team to supply sample code and hash out any queries before you get started.
Please see the developer guide for further details on how to connect to WiseTime or get in touch with us for a free developer account.
How WiseTime connects with complementary systems
The WiseTime API allows connections via either HTTP/JSON or gRPC/Protocol Buffers. The WiseTime API is pretty simple: we provide two services with two endpoints each.
Tag Manager
The Tag Manager service lets you create Tags and Tag Keywords in WiseTime. A keyword is a synonym or alias, that, when matched, will apply the respective tag the keyword refers to, to an activity.
Posted Time Service
The Posted Time service lets you transmit time that has been sent to WiseTime to your connected system. Once you have processed the posted time, you can call the 'Update Posted Time Status' endpoint to let WiseTime know that the records have been successfully dealt with.
Want to know more?
Get in touch with us at support@wisetime.com. We have a friendly team of developers who have a wealth of experience and will be able to answer all your questions.
You can also check our documentation for specifics about the WiseTime connector design as well as the API documentation.
Great tool for independent contractor! Extremely handy while working different projects for few customers. Another use case is to recall what you work on few weeks ago. ☺- automatic time tracking - smart tags assignments - timesheets generation ☹- can't really say anything, it covers all my current needs
WiseTime I was previously at a firm where I did not need to bill my time so this is new to me but I am very thankful that we use WiseTime because all I have to do at the end of the day is to group my time together and post it. It's simple and fast. ☺I enjoy the fact that I do not have to worry about timing myself when allocating a certain amount of time on a project because I know WiseTime will do it for me. I also love the fact that the software is integrated with Clio, our management program, to bill our clients so no extra steps involved. ☹Although you can pause WiseTime and have it start recording your time when you select maybe having a daily time schedule so when you're done with your day and use the computer without having to remember to stop recording non-work items.
WiseTime's Three E's: Easy, Essential, and Earns You Money The three E's come to mind when using WiseTime. It's Easy: Training employees to use WiseTime is quick and painless. It's Essential: I can work all day and not think of billing one time. This frees me up to do more billable work throughout the day. An essential tool in my productivity. It Earns you money: Before WiseTime, our firm was losing thousands of dollars in small daily tasks like sending a quick email or checking the status of a shipment. With WiseTime, we are able to track every single keystroke and mouse click throughout the day for an accurate count of what happened that day. There is no forgetting about a small task that can be billed out. I will never work without WiseTime running again. It is as simple as that. ☺In addition to its automatic time tracking, Wisetime is so easy to deploy and use. Getting new members set up to use WiseTime is a 1 minute process without all of the clunky steps most software makes you do. Training new employees to track their time is a quick 5 minute process that lends itself to earning more money for your business. ☹There is only one thing I do not like about WiseTime. When tracking time, there are too many clicks that are needed to track. While I understand the thought process that goes behind why it is set up the way it is (tracking one item throughout the day all at once), there are those that track by the hour at the end of the day. This causes more clicking and confusion.
Best thing I've come across to clear my head LOVE this software so mujch. ☺I love this software because I can now get on with my day and I have a bunch of different clients, this takes the stress out of chopping and changing which happens ALOT. I may be in the middle of something and a client calls and I chop over to them and it tracks it all without me having to worry or billing wrong. ☹I bill some clients in 10 hour blocks. I would love an option where I can choose for it to alert me when a certain number of hours are up for a particular client. Maybe add a date and say example: From 10 March let me know when 10 hours is up. It to send an alert...so then I know to invoice again wiuthout having to continually check and then sometimes I'm over the hours by the time I check.
Great Priduct ☺WiseTime helps me track the hours worked and the clients I did work for. Thus, it helps me record my time and do my billing. ☹Not the easiest to use. Also, does not track phone calls.
Best Time Tracking Application on the Market WiseTime's passive time tracking feature is what helped me make the decision. I don't have to start or stop a timer. I log in my computer for the day and don't worry about anything. WiseTime does the heavy lifting. ☺I've done the research, WiseTime provides the best passive time tracking on the market. ☹The only issue I've had with WiseTime is a few glitches with the desktop app.
Invaluable to my Busy Practice Wonderful product and I have been very happy. ☺It is very helpful that I can access it online from anywhere so that I can log my time. The integration with Clio is wonderful. ☹The logging of time away from my computer could be better. Would love to have the ability to see it all the time away for the day and lot it all at one time.
Excellent product ☺It's so easy to set up and use! It has paid for itself 10x over. ☹I haven't found a negative yet. Works great
Easily Manage Time Tracking I have been using for almost 2 years in my consulting practices and it has really simplified my time tracking ☺It is easy to deploy and set up. Basic reporting meets my needs for the most part ☹I would like to be able to better automate and customize reports. Also - the ability to add more tags
Great tracker Weekly usage ☺Compiling features that takes all of my activity and puts into one tracker. ☹Price - I wish the price were less given how little I use it.
Need some help? We're here for you.
Submit your details and we'll be in touch.
---
Psssst! Have you tried our Help section?